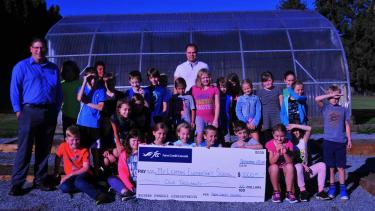 We are pleased to offer a variety of programs and special events to enhance your child's experience at school. 
Grade 4 and Grade 5's have the opportunity to participatee  in intramurals throughout the school year.  
Within our regular BC school curriculum, Mt. Lehman also offers opportunities for students to learn from our Science, Agricultural and Technology themes during the year.  This would include opportunities to plant from seed in the greenhouse or garden boxes as they learn about the ecosystem and life cycle of plants, animals and insects.  This would also include opportunities for students to use laptops and iPads to connect with the research and prepare their own projects of what they learned, often using programs like iMovie.
We are participating in the "BC School Fruit and Vegetable Nutrition Program".  This program is available to us at not cost as it is supported by the Ministry of Health, Ministry of Education, and Ministry of Agriculture.
Our Fruit and Veggie Days for 2022-23 School Year are as follows:  TBA
Throughout the school year Mt. Lehman Elementary also engages in Spirit Day and Spirit Week.  Thist is a special day or week where students who attend school show their school and team spirit by dressing up in line with the days' themes.