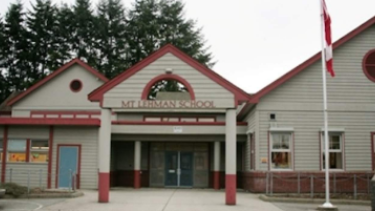 Located on the Northwest corner of the Abbotsford School District, Mt. Lehman Elementary School is a modest sized elementary school situated in the rural community of Mt. Lehman.  Our current school population and demographic has 103 students from Kindergarten to Grade Five in 5 divisions.  Parents, families and students are drawn to our school by its rural setting, supportive community culture, and high academic expectations.  Our school was last reported by the Fraser Institute's 2017-18 Report on Schools, ranking Mt. Lehman Elementary the Top Public Elementary School in the Fraser Valley region, 21st among public schools in BC, and 88th among all 984 public and private schools in BC.
Originally opened in 1884, Mt. Lehman Elementary School is the oldest school in continuous operation within the Abbotsford School District.   The current school building has seen many changes and renovations, but still incorporates the 1910 school house as part of its structure. Parents are active in the school and in the community, and many have contact with their child(ren)'s teachers each day.  Other notable historic landmarks in the community include the Mt. Lehman Community Hall, and the United Church.  Each year, the three organizations work collaboratively with our school Parent Advisory Council (PAC) to promote and participate in community events, such as the Mt. Lehman Fall Fair (September), Remembrance Day (Nov. 11) and the July 1st Canada Day Celebration.
Mission Statement:  We are in interactive community of life long learners dedicated to achieving individual potential.
School Motto: Respecting the Past...Preparing for the Future