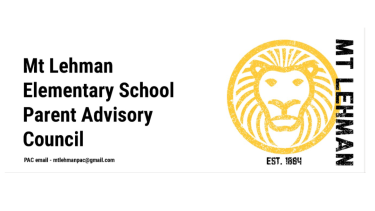 Hot Lunch:
Our PAC operated Hot Lunch Program is through Munchalunch.  
Next Hot Lunch:   March 10 - hot dogs (ordering now closed ) and March 31 - Red Robin (ordering open).
Please don't order if you can't process payment at that time. We hate having to cancel orders because they aren't paid.
Orders close 5 days before the lunch date but PRO TIP - if you can, order for all of them now and then you won't forget and don't need to worry about deadlines 😂
http://www.munchalunch.com/schools/mtlehman
2022/23  Parent Advisory Council Executive
PAC Chairperson                 Melissa Markle
PAC Vice Chairperson         Tara MacDonell
Treasurer                              Jen Thomas
Secretary                              Kyla Angell
Fundraising                          Tiffany Jerome
Kitchen/Hot Lunch Chair   Jen Noske
COMMUNICATION: 
Typically we use the PAC FaceBook page to communicate with parents, so if you haven't already, please join us there - http://www.facebook.com/groups/mtlehmanpac
We will also send out occasional updates via the school website so if you are not on FB, don't worry!
If you have any questions, please feel free to reach out - mtlehmanpac@gmail.com 
Mt Lehman Alumni Page
If you are a Mt. Lehman Alumni or a parent of a Mt. Lehman Alumni, we want to keep you in touch with our community!
Copy & paste the Facebook Link to follow us:
https://www.facebook.com/Mt-Lehman-Alumni-105443010840696/