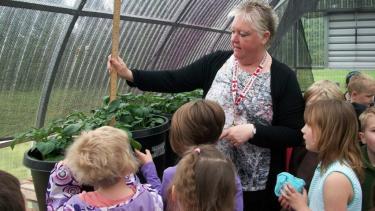 SAT
Science, Agriculture, & Technology (SAT)
On September 22, 2006, our school began to develop our Science, Agriculture, and Technology focus.  These are some of the highlights of SAT.
built a greenhouse (Spring 2007)
purchased a class set of microscopes and growing kits
participate in the "Spuds in Tubs" program school-wide and enjoy the bounty on "Potato Day"
composting
created a Reduce, Reuse, and Recycle program and Green Team
planted over 500 daffodil bulbs in our back garden and 100 tulip bulbs in our front gardens
grow vegetables every Spring and enjoy the harvest on a "Salad Day"
have a school-wide Science-based field trip each year (examples:  Science World, H.R. MacMillan Space Centre, Vancouver Aquarium)
utilize programs such as Science Probe and Scholastic Pan Canadian Science to teach Science learning outcomes
We are especially grateful to our PAC and the Mt. Lehman Garden Club for their support of our Science, Agriculture, and Technology efforts.